What's Inside Counts
Small-batch, handmade fillings are lovingly spread inside of our crisp outer chocolate shell.
All Organic. Fair Trade. And of course, all delicious.
SHOP ALL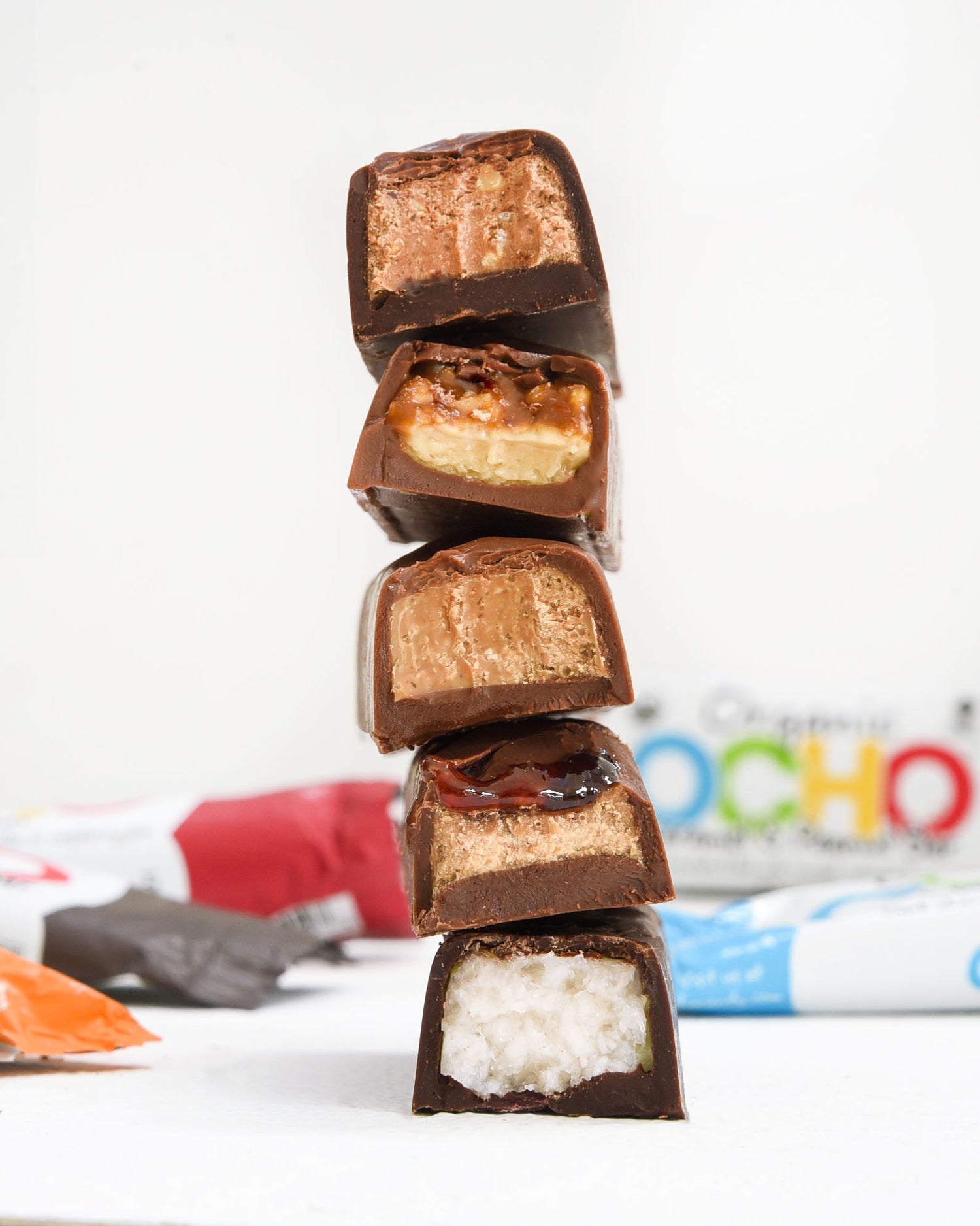 A Sweet Manifesto
Organic and Fair Trade candy should be delicious!
Candy bars should be beautiful inside & out!
You are Beautiful inside & out!
Real ingredients and traditional candy-making skills on shiny new equipment will make great candy bars.
You should know where your candy comes from, which is why we try and get closer to the source of our ingredients.
We believe in saying what we mean and making what we say.
We think you are a pretty cool person, and we should really hang out more often.
About OCHO...
Sweet Beginnings
Why can't anybody make great tasting organic candy bars? That was the question weighing on Denis Ring's mind. Being a natural food expert, he was certain it was just a matter of time before a delicious, organic all-American candy bar would hit stores. However, years passed, and nothing happened. This is when Denis took matters into his own hands. He started working with different concepts to create something tasty.
Denis wanted some honest feedback, so he brought these early samples to his friend and entrepreneur, Scott Kucirek. Scott was sold after his first bite! Denis invited Scott to join him in building a truly innovative organic candy company.
When selecting a location for its factory, the team couldn't resist the lure of West Oakland. Like OCHO Candy, it was up-and-coming and ready to shine. And it's where OCHO continues finding new ways to make candy more delicious and surprising.
In 2020, we recognized that we were outgrowing our Oakland, CA production facility, and needed to move.  We looked around the US to find a suitable partner to move our very unique candy-making line to and found that if me moved closer to the Equator, we would have a better supply of ingredients as well as financially benefiting those in the indigenous countries where the ingredients were farmed, or where the candy is made.  So, in 2021 we took the large undertaking of moving all of our candy making to the chocolate-origin country of Trinidad & Tobago.  
Fair Trade Certified OCHO Candy
Here at OCHO Candy we believe in saying what we mean and making what we say. Since the beginning we have been using Fair Trade chocolate to make our delicious candy bars, and now we are excited to announce our official partnership with Fair Trade Certified. As a company, we have a growing commitment to raising the bar in social responsibility and environmental sustainability. Now you can be a part of that commitment while keeping your taste buds happy with our fair-trade chocolate!"
What is Fair Trade?
Fair Trade USA is a nonprofit organization and the leading certifier of fair trade products in North America ranging from seafood to apparel to produce, offering certification for growers around the world. Its trusted Fair Trade Certified seal on a product signifies that it was made according to rigorous fair trade standards that promote sustainable livelihoods and transparent supply chains.
When you choose Fair Trade Certified OCHO chocolate, you're voting with your dollar— supporting income sustainability, worker empowerment, community development and environmental stewardship. Through the unique Fair Trade Community Development Fund, workers can address local needs so that their families and children can thrive for generations to come.
OCHO Candy was created to provide candy lovers with a delicious, organic alternative to traditional candy bars. We use only the finest USDA Certified Organic ingredients and hand-craft our bars so that you can taste the difference in every bite.
Why Organic?
Organic refers to the way agricultural products are grown and processed. It includes a system of production, processing, distribution and sales that assures consumers that the products maintain the organic integrity that begins on the farm. And, because federal production and processing standards are in place, these standards provide verification and traceability from the farm to the consumer.
Unlike other eco-labels, only ORGANIC guarantees:
NO toxic and synthetic pesticides or fertilizers
NO GMO ingredients 
NO antibiotics or synthetic growth hormones
NO artificial flavors, colors, or preservatives
NO sewage sludge or irradiation
What is Vegan Certified?
Some of our products at OCHO Candy are made without animal-derived ingredients, and so we make sure that they are certified for transparency.
Distributed and recognized globally, the Certified Vegan Logo is a registered trademark for products that do not contain animal products or byproducts and that have not been tested on animals. 
for more information please visit https://vegan.org/certification/
Passion for Organic & Fair Trade
We are a team of people with a long history in making Organic and Fair Trade food.
When you choose Organic & Fair Trade Certified OCHO chocolate, you're voting with your dollar— supporting income sustainability, worker empowerment, community development and environmental stewardship. And Farmworkers do not have to toil in chemical-laden farms or fields to produce your food.
Shop All